Paul Hollywood likes to stare. It's a wonder he manages to make any bread in between all the staring. Yet he does, and he now has his own BBC cookery show to tell us how to make bread too.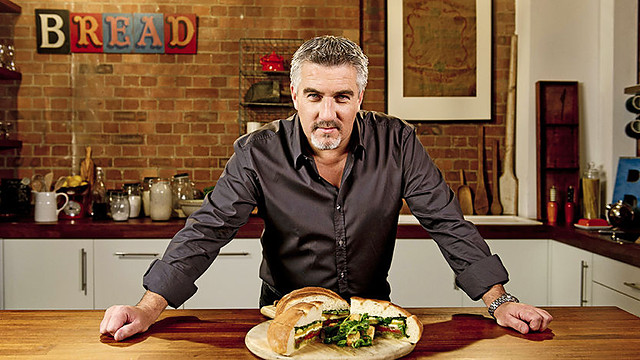 Each week Hollywood offers up a different slice of bread history and culture. In the first episode Hollywood explored the bread classics: bloomers, ploughman's and malt loaf. He occasionally flirts with meat and cake recipes, but the series is predominantly, as the title suggests, about bread.
This week his focus was on flat breads. They might be really interesting but it looks like making them will be more effort and hard work than my little kitchen could handle. He started by visiting different restaurant kitchens to learn how to make impressive looking flat breads.
It was all very educational but then Hollywood began to act like he was in his own episode of "The Generation Game" all about bread. He would see the experts doing it and then decide that he could do it better. Annoyingly Hollywood didn't end up plating up some rubbish, like Generation Game contestants normally would.
Hollywood has landed this series after showing off his baking skills on "The Great British Bake Off", playing the bad guy to Mary Berry's comforting figure. Innocently it makes sense that Hollywood, a keen and knowledgeable baker, wants to get the nation making their own bread, as he says: "I can't just be beaten by a piece of dough, it ain't going to happen."
Not so innocently, the Hollywood stare seems to have caught some people's attention. Nicknamed the 'Silver Fox' he seems to be a bit of a sex symbol. Looks aside, he does end up playing up to his reputation. He likes to get his hands messy, demonstrating how he likes to use his hand as a mixer. He also started to pound his dough roughly against the table, instead of just rolling out his flat breads. He isn't doing himself any favours.
The important test for any cookery show is does it make people want to cook. Hollywood surely knows that he has a battle on his hands. Any person watching a heavenly chocolate cake being made on the telly would surely try making it themselves? You show someone how to do meat, potatoes and veg a bit differently then someone will give it a go. But even if you show how amazing it is to make your own bread, then almost everyone will say: "That's nice but it costs about £1 in the shop."
However, he does make it look simple and that's encouraging. Make your own judgement and watch "Bread" on BBC iPlayer.