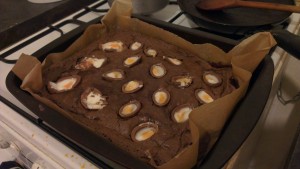 The latest episode of Food for Thought ended up a bit of a mixed bag. I was hoping to interview a local tea room but I was leaving it a bit late.
I record the show on a Tuesday evening and had arranged the interview on a Tuesday afternoon. Unfortunately it didn't work out as when I arrived my interviewee was ill and at home. Hopefully we'll be able to rearrange the interview soon. As a result the show ended up being a bit rushed. Luckily I have lots of interviews which I like to reuse every now and again.
I also realised that it's almost Easter so I should try making something. There are recipes for creme egg brownies on Facebook and thought I should give it a go. So the brownies get reviewed on the show too.
You can listen here:
Audio clip: Adobe Flash Player (version 9 or above) is required to play this audio clip. Download the latest version here. You also need to have JavaScript enabled in your browser.
Recipe
Easter hasn't arrived until you have had a creme egg. There may be bigger eggs or better chocolate but nothing compares to the childlike wonder of a creme egg. There's something very Heston Blumenthal about them.
I, perhaps foolishly, decided that they could be made better with cake. I admit this recipe is not mine, I found one on the internet here and then tweaked it according to what I like.
If you would like to try them out I made a video recipe guide. And if you do try them out then let me know how they went.