In my head it has been Christmas for a few months because I have been planning the festive edition of Food for Thought. There has been a lot of planning, thinking and editing and I am rather proud of what I created. I know it is only talking about food, but getting so many people to talk about the different aspects of the day has been really interesting.
To get yourself inspired for Christmas listen to Food for Thought in full here:
Audio clip: Adobe Flash Player (version 9 or above) is required to play this audio clip. Download the latest version here. You also need to have JavaScript enabled in your browser.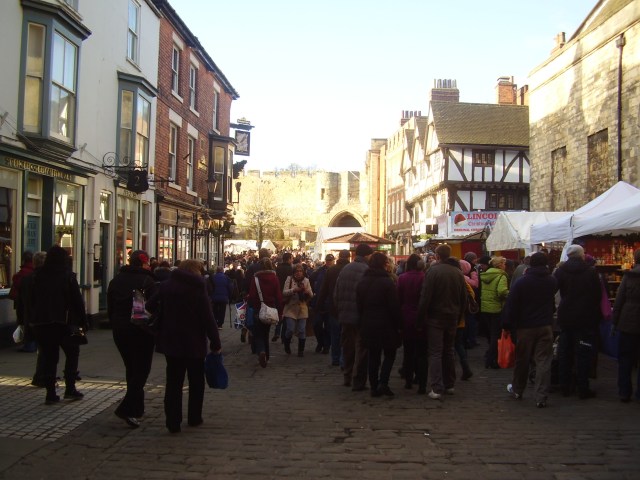 To kick off this Christmas special is my trip to the Lincoln Christmas Market. The four day market has all sorts but this year I visited with my focus on food. The market also seems to have become synonymous with mulled wine, I didn't grab a glass as I went at 11am by myself, but I did chat to some people serving it… dressed as monks.
Audio clip: Adobe Flash Player (version 9 or above) is required to play this audio clip. Download the latest version here. You also need to have JavaScript enabled in your browser.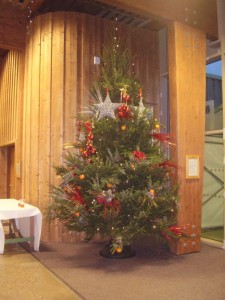 A few weeks ago Food for Thought regular Sam Pidoux and I went to a Christmas Food and Gift Fair at the Lincolnshire Showground. It was a chance for local producers to show off their Christmas foods. We went to find Christmas food essentials such as wine, cheese and the bird.
Audio clip: Adobe Flash Player (version 9 or above) is required to play this audio clip. Download the latest version here. You also need to have JavaScript enabled in your browser.
Traditionally the panic of Christmas Day comes from cooking the turkey, so I chatted to Lincolnshire chef Rachel Green to get some tips. As well as passing on her advice for preparing the turkey she also has some recipes for what to do with any leftovers.
Audio clip: Adobe Flash Player (version 9 or above) is required to play this audio clip. Download the latest version here. You also need to have JavaScript enabled in your browser.
I have chatted in the past few weeks, about how I am not a huge fan of Christmas cake. My favourite part is the marzipan, which doesn't do many favours to the cake. However, I wanted to find out more about how to make it and decorate it so I chatted to a cake making professional.
Audio clip: Adobe Flash Player (version 9 or above) is required to play this audio clip. Download the latest version here. You also need to have JavaScript enabled in your browser.
To end this week's show was a brief chat with the organisers of the Lincoln Oktoberfest about what kinds of food Germans like to eat at Christmas time.
Audio clip: Adobe Flash Player (version 9 or above) is required to play this audio clip. Download the latest version here. You also need to have JavaScript enabled in your browser.
If you haven't had enough, then there is another Yuletide edition this week. Listen to Siren FM on Wednesday at 2pm or Saturday at 3pm. As well Christmas songs galore I have also been finding out about what to make for the Christmas Day meal if you are vegetarian and reviewing Christmas sandwiches.
Podcast: Play in new window | Download