Siren FM recently celebrated winning the title of East Midlands Station of the Year. The Radio Academy Award was part of their Nations and Regions awards which celebrates local programming.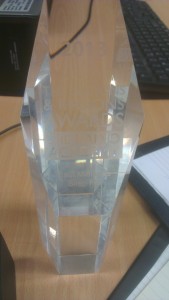 It's fantastic for Siren to win this award and have the hard work of all the volunteers appreciated. We found out about the win at the station back in December but it was great to have an evening dedicated to receiving the award.
The accolade was awarded to Lincoln's first community radio station because:
"Siren FM is a really ambitious and creatively interesting station. They're doing something different but in their own way and are firmly rooted in their community. A mix of local experiences and stories with global themes – relating the world to Lincolnshire and vice versa.
"This entry displayed a great range of voices and topics on air as well as a great mix of youth, heritage, diversity and local history. A student station that demonstrates good engagement with both students and the wider listener. The schedule was eclectic and the station sounded good and fresh."
Our winning entry included lots of clips from a variety of Siren shows, and I am happy to say that my radio documentary following the Burton Road Chippy was included.
Here's some photos from the night.