Excitingly one of my cake recipes has been published in a local recipe book.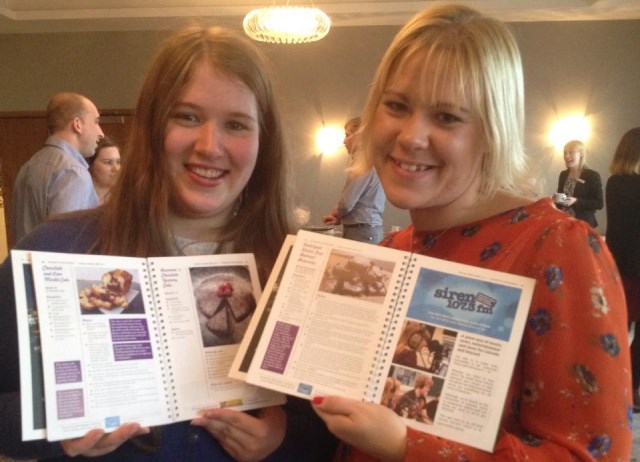 The Cooking to Save Lives book has been published by the Lincolnshire based first aid charity Lives. Over a couple of months they collected recipes from local restaurants, cafes and people to create this guide to the county's food.
Back in the summer Steve Hyde from Lives visited Siren FM to talk about what the charity does and to explain their project. Essentially Lives need to fundraise almost a million pounds a year to keep running and Steve thought a recipe book would be a good way to raise some money. He approached Chris Strawson, who works for local printing company DPS Printing, and he had the idea to fill the recipe book with dishes from restaurants and cafes from around the county.
You can listen to that interview on Food for Thought from last summer here.
It was after that meeting that Sam Pidoux, who regularly helps out on Food for Thought, came up with the idea to submit some of our own creations to the book. Sam came up with gluten free chocolate brownies made using beetroot as one of the ingredients so the pressure was on to come up with something good.
Usually when I am baking I will follow recipes but I couldn't submit someone else's recipe and pretend it was my own. There was one cake that I had come up with myself for my Dad's birthday. He loves those chocolate and lime sweets and I wanted to use those flavours in a cake. After some experimenting with how to use lime in cakes, I created a delicious chocolate and lime marble cake. The recipe was different and something special to me so I thought it was a good choice for the book.
In early December Lives and DPS Printing held a party at the Electric Bar in the centre of Lincoln to celebrate the launch of the book. It was my first chance to see the book and I was very impressed. It was great to see people interested in my cake and to see all the other dishes that were in the book.
You can pick up a copy of Cooking to Save Lives from a few local cafes and restaurants including Angel Coffee House, Burton Road Chippy and The Old Stables. Alternatively you can buy the book online as well on the Lives website.